Is a mystery a mystery if you figure out who dunnit it before someone is killed?

One fine day in July of 2013 Rachel, face planted against the train window, spots "a pile of clothing on the side of the train tracks. Light-blue cloth – a shirt, perhaps – jumbled up with something dirty white."
She points out the fact that she has an overactive imagination (and she tells us that Tom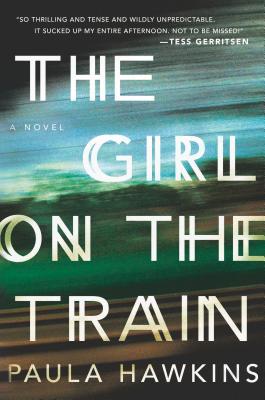 thought so too).  Did something nefarious happen here or did a trainman discard some soiled garment?
Rachel is traveling toward London on the slow lurching 8:04 morning train from Ashbury. The train judders along each day and at one point passes modest Victorian houses backed up against the tracks.  In the evenings, the 5:56 train creeps back past the same houses and over time she has crafted a fictional existence for the residents. Every day, coming and going, the train stops at a faulty signal for a few seconds and she gets a little more time to watch her favorite trackside house: number fifteen.   Rachel doesn't know the couple but she has named them "Jess and Jason".   In her mind's eye, this is the idyllic couple. Jason works hard to support Jess, serves her coffee in bed and anticipates her every need.  Jess stays home and  languishes until Jason returns every night to keep her safe and comforted.
The train also passes by house number twenty-three.  It just so happens that this was Rachel's first home.   Now divorced and despite the pain it brings, Rachel can't pass the house she loved so much without looking at it from the train window.  This day in July of 2013, Rachel observes the wife (whose name we learn is Anna) watering roses; roses that Rachel planted years ago.   She also knows Anna's husband, Tom.  He had been Rachel's husband and they had lived in that house too.
Rachel's home for the past two years has been a spartan room rented from an old college acquaintance.  They really were not friends in college and still are not although they live under the same roof…for now.
Rachel travels back and forth on the train with her favorite crutch every day; a bottle or two of booze.  It is readily apparent that Rachel likes to drink. Often. A lot. Anywhere. She drowns her pain and misery and at some point most days, her memory.
The story shifts back a year to March 2012 and shows up in the master bedroom of house number fifteen.  Rachel's "Jess" is actually named Megan and she, too, uses the rhythm of the rails to stimulate her imagination.  She dreams of an exotic life of adventure much further down the line; far away from the raucous train sounds.  As she plans for an evening out with her husband, Megan hears loud screams and the sound of a child crying in the backyard of house number twenty-three.  She observes two women struggling over a child.  Finally one walks dejectedly away and the mother we know is named Anna scrambles into the house carrying her crying child.  Megan becomes curious and volunteers to baby-sit to find out what the ruckus was about…
Rachel was happily married to Tom.  Or so she thought. As time passes, her life crumbles as she realizes that she is incapable of bearing a child and Tom becomes disgusted and unhappy with her. She changes from an attractive wife to a frump and a drunk in Tom's eyes.  He wanders into Anna's arms and eventually out of Rachel's life.  But not before he destroys Rachel's confidence and mental stability. She turns to alcohol to sooth the rough edges.  The deeper she falls in her depression and drunkenness, the more she loses.  Eventually she loses everything including her husband, her job, her credibility her self-respect and very nearly her only friend.
Anna is supremely happy as a mistress and falls for Tom's charms and false adoration.  She is convinced by Tom that Rachel's alcoholism has crushed his marriage.  Tom spreads the charm deep enough to swallow up Anna's life just as he had previously with Rachel.  Anna becomes pregnant. In her mind, the perfect marriage has become the perfect family.  Trouble blooms in paradise when Rachel refuses to believe that Tom doesn't still love her and begins to stalk the Anna, Tom and the baby.  Rachel begins to call late at night, over and over.
Down the street in house number fifteen, Megan and Scott present the image of a happily married couple.  Megan, however, leads a duplicitous life that she struggles to hide from Scott.  Would it be fair to say that Megan is a closet nymphomaniac?  Or perhaps in a kinder vein, just plain messed up and seeks pleasure in all the wrong places?  Scott is very insecure and has a jealous streak a mile wide.  A large imposing man, he reacts violently when provoked.  Scott unable to decipher why he feels Megan is unhappy and encourages her to seek therapy.  When it appears that she is happier, he is comforted.  Right up until the day that she disappears.  Did she run off with the therapist?  Or has she become the victim of horrible tragedy.
These three households swirl in a tragic symbiotic universe where one of them pays the ultimate price with their life.
Each of the major characters is severely flawed and socially immature.  Having said that, I found that the flaws of each were so similar that I had difficulty separating them and at times not sure who was speaking.   They all desperately try to find individual fulfillment through the lives of someone else.  They are sad group of people.
I can't say I totally disliked the book because that is not true.  I just grew weary of the Debbie-downer dreary story and had to put the book down many times to take a breather.  Women having to define their image through the eyes of their husbands depress me.
The scenes that were intended to be suspenseful just seemed drawn out to me. Unlike some very well crafted psychological thrillers that give me goose bumps, I just couldn't get invested in the story, as it was clear to me early where the story would lead.
In all I would judge the book readable but not terribly fulfilling.  But undoubtedly it will make a popular film.
Girl On The Train is the author's first thriller fiction.  A good starter book and she should try again…soon.